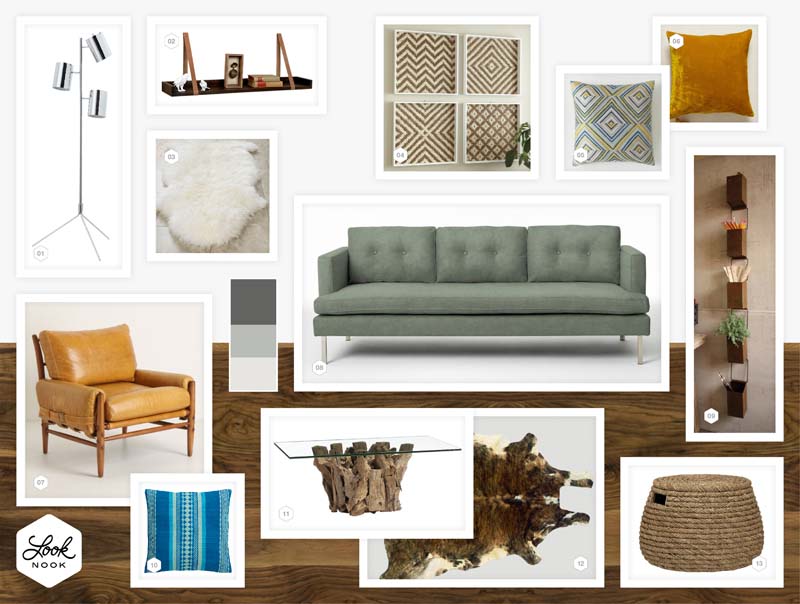 Enter to win the opportunity to work one-on-one with one of LookNook's amazing interior designers to create a custom design board for one room in your home.
I have a problem when it comes to decorating our home: I buy whatever I like. Well, not whatever I like. If that were truly the case, I'd own a thousand things I couldn't afford; Like this pot or this rug that have had my heart since the moment I laid eyes on them. What I mean is that I buy things because I like them but they don't always go together. Like our fantastic vintage arm chair with 1970's bright orange flowers. It's a statement chair and it belongs in a room designed around it. But our room isn't designed it and, as a result, it sticks out like a sore thumb (in my mind anyway). The problem is I like a little of everything: a little midcentury, a little modern, a little vintage, a little desert, a little rustic. I also like milkshakes and scrambled eggs, but not scrambled eggs in my milkshake if you catch my drift. The thing with food, or clothing for that matter, is that you can change it daily… even multiple times a day, if you wish. But your home? You can't change it daily. And thus, I've become paralyzed by my own indecisiveness.
I received an email from the sweet ladies of LookNook and couldn't wait to hear more. LookNook was started by award-winning interior designer Rachel Guest who believes that great interior design has the power to transform not just living spaces but also the quality of lives. I couldn't agree more. Willy and I have spent a lot of time working on our home and even though there is plenty we'd still like to change, we take great pride in the space we've created.
Many of us cannot afford to hire an interior designer. Not only is hiring an interior designer expensive, but it's also time consuming. We live in a fast paced world and now, as a mother, time is more valuable to me than ever. LookNook is not only an affordable alternative, but designing your space can happen without ever leaving your computer chair.
My experience with LookNook exceeded my expectations. Here's a step-by-step recap of what my experience was like:
-I received an email from interior desginer Holly Hargrove with a questionairre attached. The questionairre asked questions about my style, links to products I love, links to my pinterest boards, budget, etc.
-I sent Holly photographs of our family room.
-By the end of the week, Holly sent me a PDF that included all of the following:
A style board of things that inspired me (things she pulled from links I provided her with).

Visual space planning: graphic visual of how furniture and accessories are laid out in the room.

Storage ideas: love that Holly took the boys' toys into consideration. She recommended a fabulous woven ottoman that doubles as a side table.

Fireplace: not only did Holly suggest painting it, but she also recommended a specific paint color. Painting the fireplace is something we've talked about doing and it's nice to already have a starting place as far as finding the right color is concerned.

Accessories: tons of suggestions and where to find them.

Art installation: a hand sketch of how the art should appear on the wall. Love that she used art we already have but simply moved it's location and added a few things to make it pop.

Additional info: tons of tips and suggestions specific to our family room and our requests. Love her suggestion to check out a "RF remote", which allows you to control your cable box through a closed door (which means we'd be able to put the door back on our credenza).
What impressed me the most was how personal the experience was. Holly took everything I said into consideration and all of the suggestions were based on things I stated had bothered me about the space. I also love that they provide you with an itemized list. We're not able to pour a lot of money into redecorating at the moment, but seeing everything on an itemized form helps prioritize the things we do want to do in time so that we can do what we can afford now and save the bigger stuff for later.
Want to use LookNook yourself? Here's how it works:
1. Explore: LookNooks expert designers have curated hundreds of 'ready to purchase' design boards for you to explore. You can search by "look" (style) or "nook" (room).
2. Discover your style: As you come across things you like, you can add them to your wishlist.
3. Buy a LookList: Once you've found what you're looking for, buy the looklist for the look you love the most. You get all the shopping instructions and product resources that cost a minimum of $1,500 when using a traditional designer.
4. Let LookNook help you to make it yours: Their designers are readily available via phone or email. Get help in chosing the right size or color. This one-on-one individual help is offered at no additional fee. What's more is that if you purchase items through LookNook's design team, you can receive their discounted rates. They'll oversee the entire order. I'm telling you, these guys are genius.
5. Sit back and relax: The LookNook design team is fast at work while you wait for the items to arrive on your doorstep. Enjoy knowing you're getting the expertise of a professional designer at a mere fraction of the traditional cost.
Today is your lucky day. LookNook is offering the opportunity for one winner to work one-on-one with one of their amazing interior designers to create a custom design board for one room in your home (Actual Retail Price $199). This giveaway is open to US residents only.
Entering is easy. You can enter any of the following ways, but please leave a seperate comment for each entry to increase your chances of winning. The winner will be announced here in two weeks and will be contacted via email, so make sure your email address is valid.
Here's how to enter:
1. Visit LookNook and tell me which design board is your favorite
2. Follow LookNook on Facebook
3. Follow The Stork & The Beanstalk on Facebook
4. Follow The Stork & The Beanstalk on Bloglovin'
5. Follow The Stork & The Beanstalk on Instagram and/or Pinterest
Good luck!