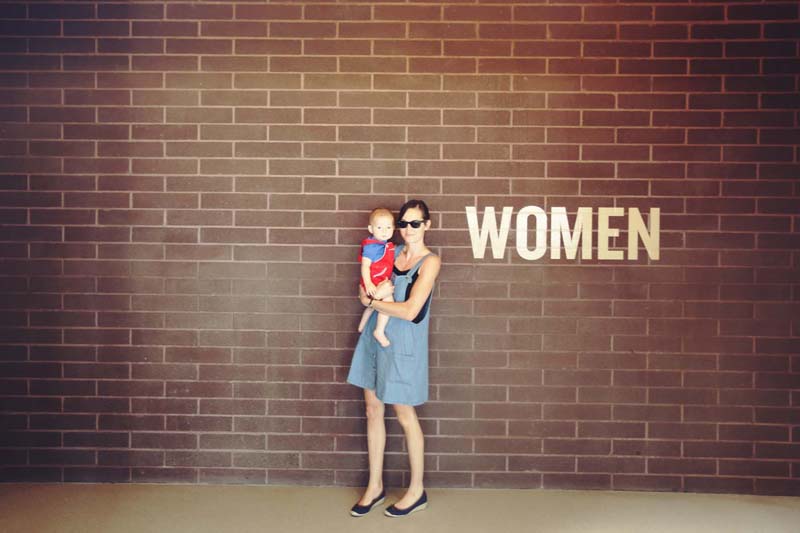 Wearing: I love this dress from TopShop. It's so airy and comfortable. I won't mention the fact that a button popped off as soon as I swung Van onto my hip. Luckily they provide you with two extras. I'm more careful now. I paired it with a basic black tank and some comfy wedges I had thrifted a while back. I can't tell if it's the outfit or the fact that there's a baby in my arms, but something about it is screaming "Mom Alert" at me. Please tell me I'm wrong? In any case, I really like this dress. I take comfort over anything and it certainly checks that box.
Debating: I've been sitting on the idea of writing a postpartum body image post. For the first time ever, I'm a little nervous about how it would be perceived. I usually don't give a shit about what anyone thinks, but I remember Melissa receiving some backlash for complaining about losing too much weight while breastfeeding and I think it made me a little self-conscious. In any event, I'll say this: I'm not comfortable in my own skin and I think – no matter what our complaints are – most moms can relate.
Loving: I've checked out a lot of the other bloggers participating in Jodi's 365 Photo Project, but none steals my heart quite like Lamb Loves Fox. She's doing a 365 day project, photographing her little lamb everyday. She's due any day now with a little fox to add to the mix. Check it out and keep her in your thoughts, I think Mr.Fox is coming today.
Starting Anew: Did you follow Frecklewonder? She abandoned ship and jumped to sail along the etsy stream of life. You can find her new shop here. It does not disappoint. I definitely have my eye out for some pennants like these for when I re-do the boys room sometime down the line.
Listening: My love for Spanish music most certainly comes from my days spent traveling. It's crazy how music can transport your spirit. To go back to places like the Dominican Republic, all I need to do is throw on some Bachata and close my eyes. In any event, I love how this band mixes in Mariachi. Brilliant. Hooper and I have dance parties while this track spins over and over again. You should too.
Wanting: Shopping for myself has become so secondary to shopping for my members. I splurged just the other night and went online shopping (I know, dangerous) and didn't even buy anything for myself. I passed on this incredibly awesome sweater for Hooper (and later Van) because I couldn't justify buying a sweater when it's not sweater weather and is only going to get hotter. I'm already having remorse about it but I'm under strict orders not to buy them any more clothes. Willy even put thrifted clothes on the back burner. I know, what an asshole. I came across this little dress too and contemplated, for a second, what it would be like if Hooper and Van had a sister. Online shopping, I hate you.
Wondering: I can't seem to figure out why parents brag about potty training. Diapers are clearly where it's at. We've had some regression with the potty training following a trip to Arizona, another to Palm Springs, and the whole rotavirus stint. With that said, Hooper peed in his pants twice and then again on the drivers seat in Willy's car over the weekend. I kinda miss diapers. But, alas, I have a few days off and I'm rededicating myself.
Hope everyone had a lovely Easter.