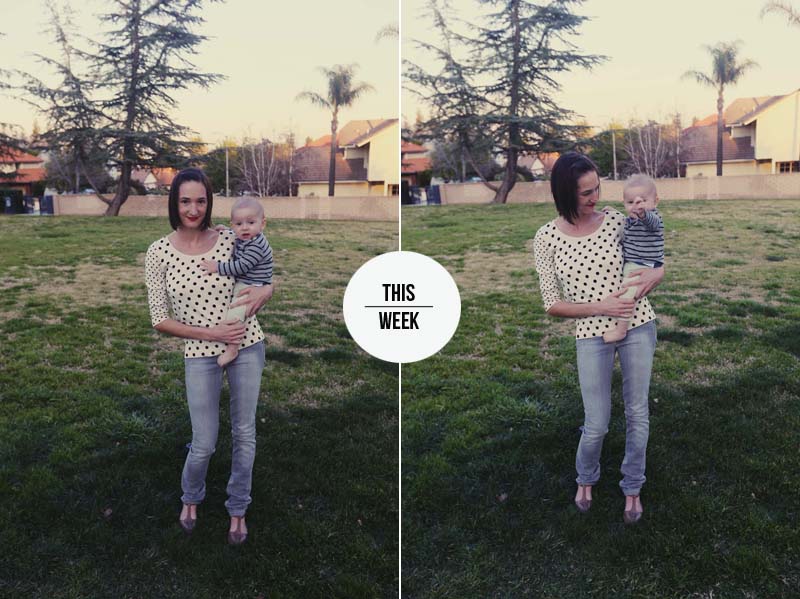 Wearing: This sweater from Target, gray skinnies, these sandals.
Swooning: See that little wave in the pic above on the right? Melts my heart.
Getting out: Some times one day starts to feel just like the day before. Willy was in Huntington Beach for work so the munchkins and I decided to drive out and meet him for dinner. We drove around Newport Beach and dreamed about living in homes we can't afford. It took well over an hour to get down there in traffic, but with the kiddos secure in their kiddo seats and with some tunes I had prepared beforehand, it was actually a nice break; even if it meant starring at the brake lights in front of me.
Cleaning: Has the Spring cleaning bug hit you yet? I emptied out our entire refrigerator and scrubbed that sucker clean. It feels so good.
Searching: I would love to invite this Andy Warhol print into my home but can't seem to find it anywhere. I have a feeling it's pretty pricey anyway.
Recovering (again): Willy, Hooper, and Van all got bit with the germ bug this past week. It's been tough to kick. Not sure how I managed to escape it, but mother earth must know the house would go to shambles in the absence of a healthy mama.
Listening: Audioslave, "Doesn't Remind Me". It's a rare to find a song that both Willy and I can enjoy. I like the acoustic version.
Rejoicing: Van is sleeping 10 hours straight through at night and napping, on a consistent basis, for a couple of hours during the day. I feel like a new woman. Now I'm ready for a third. I joke.
Redesigning: Notice the facelift? What do you think? When it's complete, I'll share the beauty and brains behind it all.