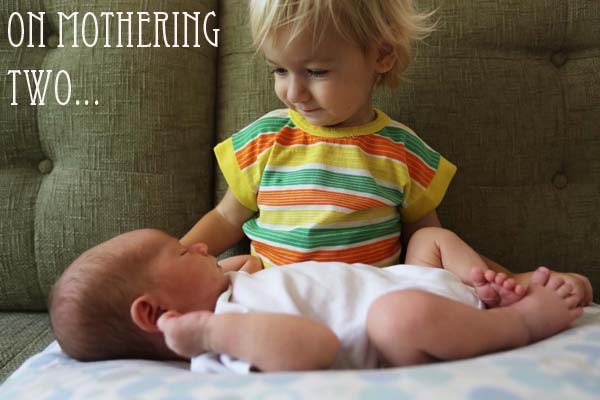 Prior to giving birth, I worried about Hooper not being the center of my universe. I grieved the inevitable loss of time and attention I'd have with him and be able to give him. In Van's first week of life, I've found the fear to be a reality. I've heard other mom's to two say that it was harder for them than it was for the older child; harder to watch your first baby rely on others for things you alone used to be able to provide for them. I relate with this entirely. Hooper is fine, but as I watch him dance around me or walk out the door with his Papa to get ice cream I feel a hint of sadness. Like he's cheating on me. This morning Willy bragged from his room, "I'm getting the longest unsolicited hug right now". My heart sunk. I needed that hug.
That's the downside. The upside is that, under the best of circumstances, parenting is a two person job. It's bittersweet. Bitter to watch Willy get hugs he used to only reserve for me. Sweet to watch him embrace the man I love, the man who helped make him. I've watched their bond grow over the last few days and it makes it hard to complain when in actuality a beautiful thing is unraveling right before my eyes. The more time Willy spends with Hooper, the more his love for his son grows as well. So ya, there's a lot of love flowing around these parts.

Hooper insists on holding his brother, but then can't decide between his brother and Gabba Gabba.
Someone would love to poke an eye out.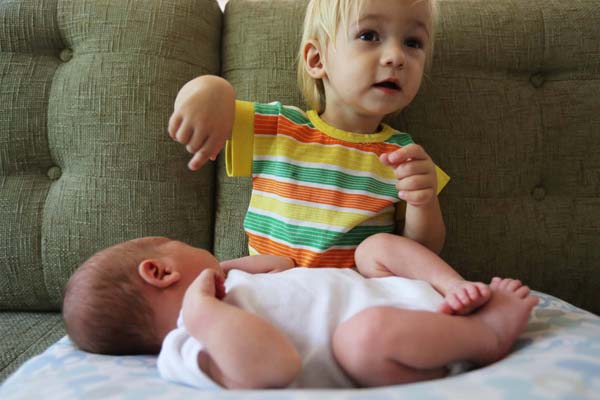 "Hey Hoops, where's your brother?"
Brotherly love.