Sometimes I hate the world we live in. What I mean is that I hate the technical aspects of the world we love in. However, I should add that I love my iPhone. And my MAC. And my iPod and lots of other things that have a little "i" in front of it. Exit Ms Pessimistic and please welcome Ms Contradiction.
Allow me to explain.
I always dreamt of having children. When I was a little girl, my mom brought me to a doll store and allowed me to pick out a doll. When she asked which one I wanted, I replied, "The one with the penis." I'm not sure why the dolls were nude OR why the boy doll actually had a penis. I'm also not sure why I knew the word "penis." But it's a true story, promise. My sister and my mom can vouch for me. Fast-forward many years and here I am, mother to not one, but two boys.
Back to my dream of having children. I fantasized about what I would teach them, the places we would go, the books I would read them, how their father would interact with them, who they would become. All that good stuff. I'll tell you what my fantasy did not include: iPods, iPads, video games, etc. I look down my street today and in place of kids playing, I see empty trash cans waiting to be pulled in and cars that somehow make it from one side of the street to the other to avoid tickets on street cleaning days.
So the question I pose is this: How do you raise a modern kid with vintage ideals?
Y'all can help me out with the answer because I have some ideas, but certainly you must have others. Multiple brains are better than one. Help this mother out.
Here are some things we do:
We support small businesses. For example, we buy handmade and vintage goodies on Etsy. We also buy from local Farmer's Markets and opt for the local Pizza Cafe over the Little Ceasars right around the corner.

We buy ice cream from the ice cream man.
  We (try to) listen to records rather than watch TV. Though truth me told, Curious George takes the cake in this house (gun makes contact with forehead).
When we do watch cartoons, we try to put on classics like Tom & Jerry or the Flinestones. Hooper was Fred a few Halloweens ago.
We play outdoors. Luckily we live in sunny southern California, so a getaway to the beach is never out of the question. Last year, we were heading to the sand and sea into October, when temperatures were still in the triple digits. We even made it to the beach in January and a couple times in February. Nevermind the current rain storm, that will pass. 
We read old books. They're worn. I like them for the simpler stories and old school values.
We buy vintage clothing and toys. I love the idea of re-using. All but a few pairs of Hooper's shoes have been purchased used. And many of his toys were my own as a child. They remind me of a simpler time and I like the idea of him adding wear and tear to something I've already broken in with my own grubby hands.
We attend fairs, carnivals, and the local circus because we can't get enough of deep fried twinkies, classic cars, petting zoos, and clowns.
We live in a home built in the 1950's and do our best to keep it in it's era. Our dream home is an Eichler.
And here's how we mix in some modern twists:
You won't find this mama in the kitchen. No 
soriee

. Willy wears the apron in this family. And quite well, I might add.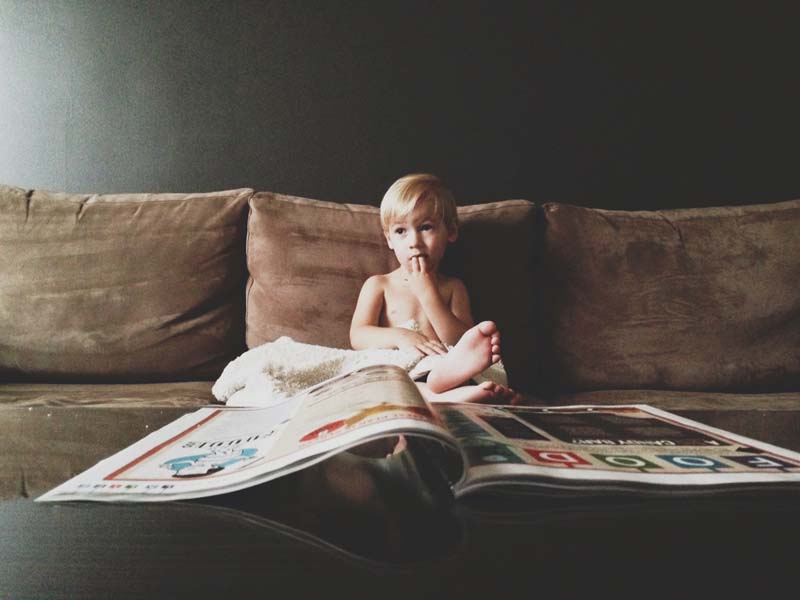 I like to capture moments with any kind of camera modern day puts in my hands. I have poloroid, film, and digital cameras. I also love instagram. Though, back in college I did spend time developing my own black and white film in the darkroom, so there is that.
Like 8mm films? Me too. Though you won't find any 8mm film in my home. I use to the super 8 app on my iPhone to make movies like this.
How 'bout you? How do vintage and modern come together in your household?