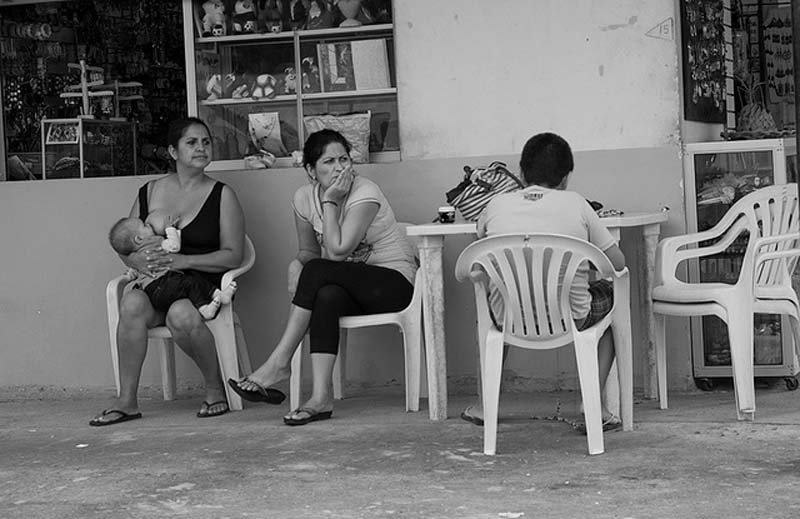 …Because the zoo, that wedding you were invited to, the beach, the park, that doctor's appointment you have to be at, and the dinner reservations you made won't come to you…
I've never had a problem breastfeeding in public. I lean more toward the side of hippie feminist who feels it's my god damn right. If someone has a problem with it, which truthfully I've never encountered, I assume it to be their problem as opposed to my own.
When I knew I'd be breastfeeding Hooper, I always made sure I had a hooter hider and dressed with feeding him in mind. I'd get apprehensive before going wherever we were going; an inner anxiety would fester over where I would feed him and how it would all work out. In any event, it always worked out.
The second time around, I've thrown caution to the wind. The apprehension and anxiety, while still there, have diminished significantly. I'm no longer shy about where I am or how frequently he eats or if my nipple is visible for the 2 seconds it takes before he engulfs it in his mouth. I breastfeed him wherever and whenever he's hungry. If someone has a problem with this, I write it off as their problem and their problem alone.
We used to take Hooper to the Rose Bowl Flea market when he was an infant. I remember breastfeeding him in a vendor's van. When we went the other month with Van, I breastfed him while sitting on the curb. When you have more than one, you don't have the luxury of finding the perfect spot. As it is with much of life, the more you do something the more confident you become at doing it.
I rarely use the hooter hider anymore. It's most always buried somewhere in my car in case I need it, but more times than not I free ball. Van gets too distracted with the hider anyway and instead of hiding my ta-tas from people that aren't looking anyway, it looks as though I'm putting on a puppet show and all the characters are getting ready to come out as they dance behind the curtain.
The other day, I fed Van on a bench at the zoo. A dad walked by with his little girl and the little girl would not stop starring. The dad looked in my direction to see what was keeping her from walking in a straight line and instantly he grew noticeably uncomfortable. My heart, however, did not skip a beat. His discomfort is his own problem. I wouldn't be feeding my child in public if I weren't comfortable with it and I try to own that as much as I can.
Things I keep in mind when nursing in public:
-I try to keep a low profile. If we're sitting in a restaurant, for example, I may switch seats with Willy if the direction he is facing is more private.
-I make eye contact with people around me. People are less likely to stare, I feel, if they catch your eye the moment they glance over. If you're looking down at your baby, creepy creeperton may try to sneak a peek. That's what I tell myself, anyways.
-Think about what you're wearing. Tops that pull up, down and over, or button down all work for breastfeeding, but tops that you can lift up provide more cleavage cover. With your baby covering your abdomen and your top covering the base of the mountains, the only thing left to show is nipple which is down your kids throat anyway.
How do you feel about nursing in public? Any tips worth sharing? Any funny experiences?
Minus the ad for Luvs, a cute video and oh-so-true.
You can read my other posts on breastfeeding by clicking here.