This Friday is the first official day of summer and there's no better way to kick off the start of a new season, perhaps the best of all seasons, than with a giveaway to Sweet Threads. If you're a long time reader of this blog, you know Sweet Threads has been around for some time. I met Shella long ago at the Rose Bowl Flea market and we've become better and better friends ever since. You can read a previous interview with Shella here.
Today she is offering a $50 gift card to one lucky winner. You can use the gift card either online or at her new shop, which opens 4th of July weekend:
Live near Long Beach? Sling your littlest one over your shoulder and put the others in the wagon. It's time for the grand opening launch of Sweet Threads: The Brick +Mortar local edition. Join us July 4th weekend.
Featuring a candy bar & desserts, discounts & swag packs, and – oh yeah – the latest in kiddo fashion.
The details: Saturday, July 6th // 11am to 5pm // 3301 E. 4th St. Long Beach, CA 90814 // Get 15% off your purchase (sale items not included) // Swag packs available to the first 50 customers // Don't worry about the sugar, they've got your sweet tooth covered.
Don't live local? Don't fret my pet. You can still enter to win. The $50 gift card can be
used online as well. Here's some of my favorites from their online shop. In case you can't tell, I'm totally swooning over the swimsuits for the little ladies… I mean… come. on.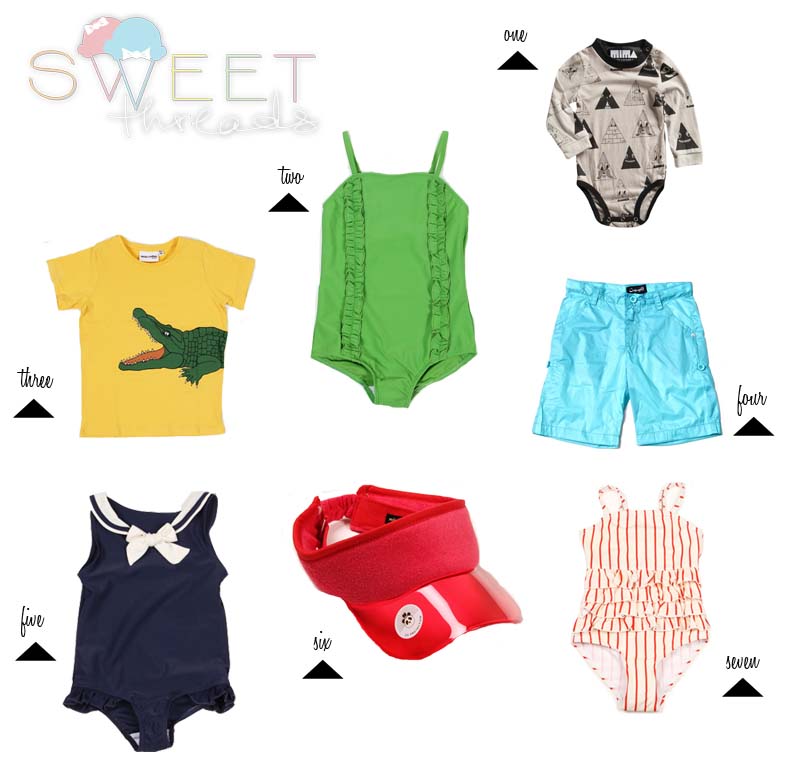 Are you like me and can't decide between vintage and modern or like to mix and match? Again, don't fret, they got all the bases covered. Sweet Threads carries the latest brands like Mini Rodini and Mini & Maximus as well as the sweetest vintage finds you could imagine. My kiddos have long been outfitted in Sweet Threads…
Onto the giveaway details:
This giveaway is open internationally (international shipping costs additional, however).
You can enter any of the following ways. Please leave a separate comment for each entry to increase your chance of winning. As usual, the winner will be chosen in two weeks using Random.com and will be announced here on Friday, July 5th. An email will also be sent, so make sure you email address is valid.
-Visit Sweet Threads online store and tell me what you would chose if you won the gift card
-Follow Sweet Threads on Facebook
-Follow Sweet Threads on Instagram
-Follow The Stork & The Beanstalk on Facebook
-Follow The Stork & The Beanstalk on Bloglovin'
-Follow The Stork & The Beanstalk on Instagram and/or Pinterest
Interested in making a purchase? Shella is kindly offering all Stork readers a 20% discount with coupon code STORK20. This coupon code is good for one month (expires 7/20/13).
WINNER: HEATHER MANU