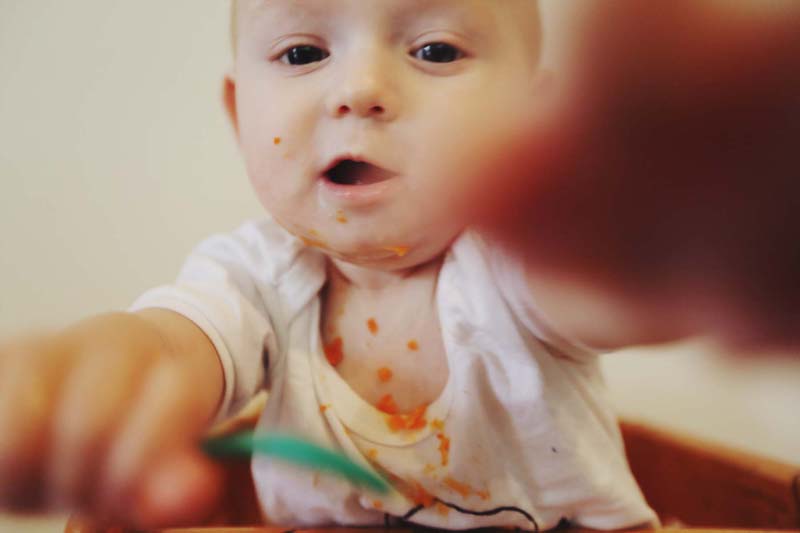 I started Hooper on solids at 19 weeks. I checked with both his pediatrician and my midwife before doing so. He was so skinny and I worried constantly about his weight. Once I started him on solids, I felt less responsible for his low weight percentile. I needed to start him on solids for my own sanity.
This time around, however, Van is perfectly healthy. His weight is dropping in percentile, but I hardly expected a child that came from me to stay in the 90th percentile. I've always been skinny, despite the fact that I too was nearly 9 lbs at birth.
The thought of delaying solids the first time around went in one ear and out the other. I couldn't shoulder the responsibility of feeding Hooper on my own any longer and I didn't want to throw off my milk supply by supplementing with formula, so I turned to solids. This time around, the idea of delaying solids has been floating around in my head. Van is doing perfectly fine and it's out of pride, honestly, that I want to continue to be his sole nutrient source.
So I did some research. I found this article on KellyMom which lists the advantages to delaying solids. I went through each one, as it pertained to us:
-Delaying solids gives baby greater protection from illness.
This is because breast milk is the best thing on earth and has a ton of antibodies. Tons of studies have been done that document lower rates of numerous infections when children are exclusively breastfed. I threw this reason out, however, because he'll still be breastfed. Solids will be added to his diet. And he's been exclusively breastfed for 6 months already… so…
-Delaying solids gives baby's digestive system time to mature.
I double checked with Van's pediatrician on this one. Solids aren't suggested prior to 6 months because of the immature digestive system. At 6 months, however, their digestive system is mature enough to handle solids. I remember from my experience in feeding Hooper that, more than anything, they are experimenting with solids at 6 months; trying a different fruit or vegetable every three or so days. Solids hardly take over as the bulk of their diet until much later.
-Delaying solids decreases the risk of food allergies.
Food allergies aren't prevalent in our family.
-Delaying solids helps to protect baby from iron-deficiency anemia.
He'll still be predominantly breastfed, so this doesn't bother me.
-Delaying solids helps to protect baby from future obesity.
I'm not worried about future obesity for my children.
-Delaying solids helps mom to maintain her milk supply.
Oh shit, did someone just mention "milk supply" followed by "maintain"? Now if for no other reason, this is IT. This is why I would delay solids: Because I'm a raging lunatic who is completely neurotic about maintaining my damn milk supply and the second something (aka solids) stands to jeopardize it, you better believe I'm on guard. Now the wheels are spinning. Now I'm listening. Go on KellyMom, tell me more.
-Delaying solids helps to space babies.
Breastfeeding alone does this as well. My period didn't return until Hooper was 8 or 9 months old. And there are other ways to space babies. I'd hardly delay solids as a means of birth control.
-Delaying solids makes starting solids easier.
The reason behind this, per KellyMom, is because babies can feed themselves when they're older. Hooper is two and I'm still assisting him, begrudgingly, with putting the spoon in his mouth (more so due to lack of desire than coordination). So yeah, I could be delaying solids for quite some time if I'm going to wait for him to be able and willing to feed himself.
Can you tell my mind is made up? The real kicker is when I talked it over with our pediatrician and said something like this, "You can delay solids. He'll probably just wake up more because he'll be hungry". And with that, we came home and I fed him peas. And oatmeal. And he made it until 5:30am this morning, which is a huge improvement. So, the solids have begun.
As a side note, I plan on continuing pumping to maintain my milk supply. And then there's the added bonus of donating what I pump. A win win for everyone. And, oh ya, Van is more than ready. That kid sees a spoon and begins to throw himself in its direction. These past few weeks of holding out have felt like I was depriving a bee of honey.