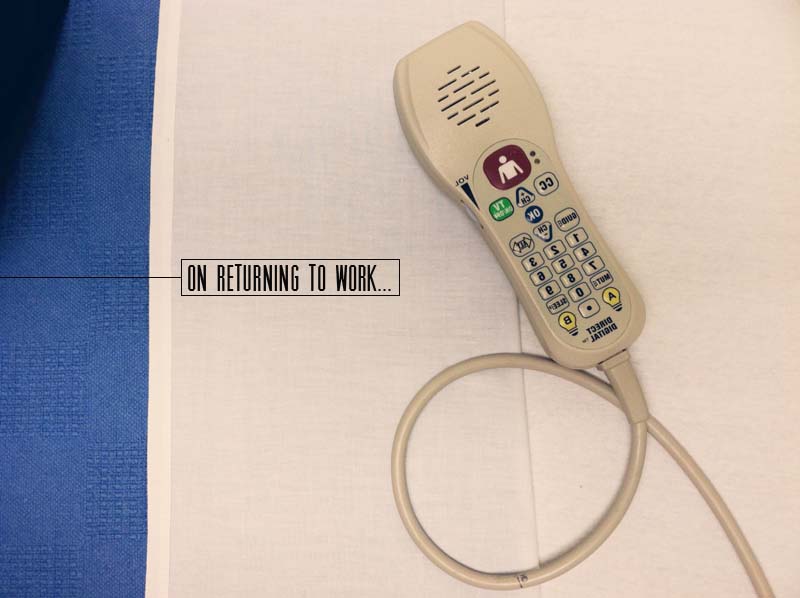 Returning to work when you have little munchkins isn't ideal, right? I can't see it any other way. From where I stand (cue the ever-so-popular photo of feet standing on a random sidewalk… you know what I'm talking about, right? If not, just write it off as another looney moment for me. The holidays made me crazy. You too? My goodness, this is the longest parenthesized sentence ever. Who the hell knew parenthesized was a word. I had to google that one. Forgive me)… yes, yes, yes, from where I stand, any new mom that looks forward to returning to work is crazy. I'm talkin' not right in the head. I have yet to meet anyone, mother or father, male or female, that loves their job so much that it's the first thing they think of when they wake up in the morning and the last thing on their mind before entering dreamland for the night. With that said, I was incredibly anxious about going back to work.
Rewind to the first time I returned to work, after Hooper was born. I took off as much time as I could. Because I don't live in the UK, this meant I had to return when Hooper was 4 months old. This is quite good by maternity leave standards in the US and everyone here told me I should be grateful. And I was. But that didn't stop me from breaking down into grown adult crocodile tears when the first person asked about how my baby was. I couldn't think about him, or talk about him for that matter, without getting choked up. It felt very unnatural to be at work, away from my child that needed me and knew no one better than me.
I found comfort in the fact that my very own parents were watching him and tried hard to sell myself on the idea that it was important for them to build a relationship with him too. I know, I know. Go ahead and roll your eyes. When I put myself in any one elses shoes I think is this bitch really whining about having to leave her children with her own parents? I know a lot of parents out there have to do the day care thing and I know a lot of people are also struggling to find employment. So yeah, don't get me wrong, I'm incredibly grateful.
I digress, as I typically do.
My realization in returning to work for the second time is this: Everything is easier the second time. Except for the postpartum hair loss. That can kiss my ass just as much this time around. And delivering an over nine pound baby vaginally can do the same.
Dammit (said like Beavis and Butthead), I digress once again.
Let me rephrase my realization: Most things are easier the second time. And returning to work is one of the things that falls into this category.
I shed no tears this time around. And it's not because I didn't miss Van, or Hooper, it's because I'd been in those shoes before. That's it, plan and simple. Chalk it up to good ol' life experiences.
Okay, okay, one other thing made returning to work easier as well: part time (two, twelve hour shifts per week). AKA a mother's dream. AKA the best of both worlds. AKA I work too so you need to help out with the dishes too!… Come on ladies, you know what I'm talking about it. Seriously though, working part time has helped me to enjoy my job more. I may, I said may, have even said returning to work has been a nice break. And if you don't think working 12 hours on my feet, not eating lunch sometimes until 4 pm, and holding my pee so I can empty other peoples concentrated piss from their foley catheters is a break, well then, you've never been a mom. Who's with me? I'm having one of those moments where I wish we were all sitting around at a huge table, wine glasses (or shot glasses) in hand, raising our glasses in appreciation of one another. Because being a mom is the hardest job of all. F*#k the state for not compensating me for all my rad mom skills. High fives all around.