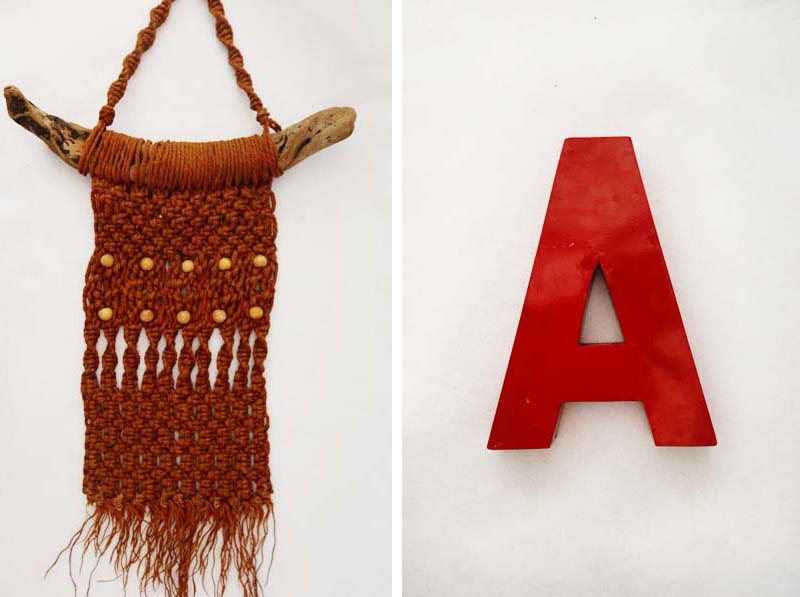 A vision of a side yard revamp has been bombarding my mind as of late. I know, wrong season to start thinking about summer evenings outside, right? Wrong. It will take us all three seasons, rest assured, to meet my vision by next summer. And this is not because I plan on doing a whole bunch of "stuff", it's because we're lazy. Or have two kids. You pick the excuse. Anyway, I picked up this macrame at the Melrose Trading Post and have intentions of drilling a hole into our stucco home to hang this beaut outside. I'll have that hole drilled by next summer, with any luck.
I also picked up this lovely letter "A", which narrows my hunt down to the letter "W" at which point our letter family will be complete.
And in case you're questioning if I'm a raging lunatic for selling some stuff while simultaneously buying other stuff, the answer is yes. Someone help me help myself.
Side note: We have ourselves a lucky little winner from this giveaway. Congrats to Jennifer (aka "logansmommy") for winning! Craft Goblin will be contacting you via email. Yay! And a reminder to those who did not win, you can still use coupon code STORKSAVINGS for 15% off. Hip hip hooray!